Huevo Splash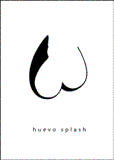 The logo is a significant part of the male anatomy, with a splash of cooling cologne.
A comedian named Pablo Francisco coined the phrase during a stand-up routine. My friends forced me to develop the advertising campaign and graphic design for the product. "Huevo Splash: For the man who shaves his huevo's." The logo is to the right.
Pablo came to Richmond, and we got his signature! I wasn't there to see him perform, but I hear he was hilarious. He loved the logo and advertising, and gave Orr a free CD in exchange for the rooster ad.
Here, the idea is to attach the brand name to a respected member of society. (Or, in the case of President Bush, to make fun of a member of society in a distinguished position.)
Here, I aimed to imitate popular advertising, such as the type from cologne companies like CK.
These are the more non-serious kind of advertising; the "this product is from a company who is lots of fun", similar to the advertising from Absolute Vodka.
For the man with a smooth rooster.
This is just terrible.
After a while, we could make fun of the brand.
Other ideas to promote the brand:
Show an image of someone obviously unkempt and dirty, and leave the logo out of the picture, suggesting that they do NOT use huevo splash. Perhaps next to a clean-looking guy with the logo. This would have to be introduced later, after the regular advertising were recognizable by the general public.
Much like American Eagle, huevo splash advertising could be geared toward the image of the life all guys want to have. Women, fun times with friends, etc. Imagine a picture of a guy throwing his head back and laughing, with all his friends gathered nearby, and a bottle of huevo splash set prominently in the foreground.